More than 100 Walkers on Gouin Boulevard
Friday July 5, 2013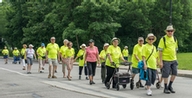 Over 100 walkers came together recently for the Grand Healthy Aging Walk!


On July 5th, over 100 walkers from the Sault-au-Récollet, Résidence du Confort, Château Beaurivage and Complexe Gouin-Langelier retirement homes came together to take part in the Grand Healthy Aging Walk. The program of the Healthy Aging Walk aims to promote physical activity towards seniors, while having a lot of fun! All participants received a pedometer which allows them to note the total number of steps made each day, between June 10th and September 6th, 2013.  The objective: adding all steps made by all participants and walking together across America, from one end of the continent to the other.
The initiative was made to bring together the 4 retirement homes located on Gouin Boulevard – what a great success! All walkers went on a distance of 1.5 km on Gouin Boulevard, which had been closed to traffic for the occasion for safety reasons, but also to allow residents to enjoy their walk to the fullest. Mrs. Rita de Santis, MP for Bourassa-Sauvé as well as the Montreal-Nord borough Mayor, Mr. Gilles Deguire, were present on site to encourage residents. During a break for refreshments, participants enjoyed a healthy meal served in a lunch box made especially for the event. The event was concluded with music and dancing in the Gouin Park – an activity enjoyed by all, despite the heat. Many smiles were seen and a lot of fun was had by all! What a great day!  
Do you like this story?