Les Jardins de Renoir 25th anniversary was celebrated all in white
Sunday August 18, 2013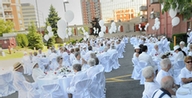 On a beautiful sunny Sunday, on August 18th, was held a celebration for the 25th anniversary of the Jardin de Renoir residence, in Laval.


To commemorate this milestone, the residence's team had planned a great day for residents and seniors in the community. In total, close to 800 guests attended our country-style festivities in the residence's gardens.  
The celebration started in late morning by a large-scale luncheon where 300 guests, all dressed in white, shared a gourmet meal in a stylish, elegant atmosphere.  In the glamorous setting of the residence's lush gardens, guests were all smiles as the residence team was serving wine, sparkling wine and hors-d'oeuvres worthy of the best banquets.  Following the concept of the world-famous Dîners en blanc which are held every year in many great cities around the globe such as Paris, New York and Montreal, the event pleased all our guests, who were completely under the charm of the concept!   
Three tables of honour had been set up for the occasion. At these tables were seated 11 residents among our guests of honour, which included many community officials and politicians, AZUR representatives as well as representatives of our sponsors, Uniprix and the Caisse populaire des Grands Boulevards. It should be noted that Mrs. Carole Marcil, the residence's general director, had the honour of hosting at her table Mrs. Simone Beaudoin, 100 years old, the Renoir's oldest resident. Also present was Mrs. Yvette Bigras, who has been living at the Renoir since its opening 25 years ago. A history-making photo was taken with our 11 residents who have been living at the Renoir for over 20 years, an impressive loyalty!
The afternoon continued with a recital by Marie-Josée Lord, a renowned soprano signer, under the large tent in the residence's garden where 500 people had reserved their seat. What best way to conclude this beautiful celebration! 
Since its opening in 1988, the Jardins de Renoir residence serves over 700 seniors daily through a team of over 100 employees. Numerous services and activities are offered in the facility for our residents' comfort and security. This residence is a member of the AZUR retirement homes banner, managed by Cogir.
See the event's pictures
Do you like this story?