The Grand Healthy Aging Walk Reaches its Objective
Sunday September 1, 2013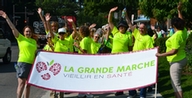 Between June 10th and September 6th was held the Grand Healthy Aging Walk, which was carried out by walking clubs from all AZUR and JAZZ private retirement homes in Quebec.


Especially created for the occasion, these walking clubs were made from volunteer walkers who took the challenge of walking a distance appropriate for their physical condition. Over 1,500 walkers had registered for this first edition of the Grand Walk – an amazing feat, according to the organizers. By accumulating their steps throughout the summer, Grand Walk participants were able to meet their objective: going across America, from Rimouski to Tierra del Fuego, the southernmost point of the continent. Their destination was reached on September 1st; quite an accomplishment for these walkers, who averaged 75 years old and over!  
The success of the Grand Healthy Aging walk was based on a simple concept. Every registered walker had received a pedometer to count all steps made during the Grand Walk. To help him/her resident keep track, the resident wrote the total of steps made each day on a cumulative sheet. Once a week, each Friday, walkers brought their cumulative step sheet to the person in charge at their residence.  All counted together, the total of all steps made by all participants in each and every one of our retirement homes has helped the network to reach the longest possible distance.  Overall, 25 stops have brought our participants across the continent, through cities such as Montreal, New York, Havana and Rio de Janeiro, to reach the ultimate destination: the southernmost point in America – Tierra del Fuego. This destination was reached on September 1st.
Benefits for the physical and psychological health of seniors
The Grand Healthy Aging Walk marks a milestone in the Healthy Aging program developed in collaboration with the Institut universitaire de gériatrie de Montréal & Cogir Management Corporation. According to IUGM researchers, many studies suggest that physical activity is linked to a better overall health, from a physical and psychological standpoint; this is especially true for seniors. Regular physical activity by seniors is associated with a better quality of life on a daily basis; better physical health, maintenance of functional independence, improved psychological well-being as well as the prevention of cognitive decline. In this context, exercise becomes a significant well-being tool – it allows seniors to   enjoy a fuller life, for a longer period of time. In addition, many studies have suggested that physical activity may have a positive effect on depression and anxiety in seniors. Besides the decrease in anxiety and depression, psychological well-being also brings lower psychological distress and perceived tiredness, as well as a better sense of self-efficiency and quality of life. Regular physical activity can contribute positively on all these factors. The social context often found in the practice of physical activity can also contribute significantly to seniors' sense of well-being, as it helps prevent loneliness. Beyond the physical benefits of exercise, activities carried out in small groups help increase social contacts and contribute to the maintenance of an active social network. The Grand Healthy Aging Walk brings all these benefits together, through a large-scale activity with a common objective.
Given the success of this first edition, event organizers have the intention of renewing the experience next year, with a revised formula and a new geographic objective.  
You can see the steps that were completed by the walkers if you click here 
Do you like this story?