IUGM' S chronicle: Medication and Seniors
Tuesday October 22, 2013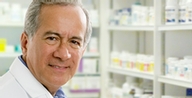 Medication and Seniors: an Efficient, Sometimes Dangerous Mix


Introduction
As we all know, most seniors wish to live in their own home for as long as possible. To be able to do so, they must remain independent as much as possible and still be able to carry out the activities and tasks of daily life. This is not always easy as numerous different chronic diseases may affect seniors. To treat these ailments, medication is often the main treatment. Most prescription drugs, if used correctly, enable seniors to benefit from a better quality of life and may significantly reduce mortality and morbidity in this segment of population. Medication dosage and frequency, the assessment of its benefits versus its risks, as well as the way drugs must be taken are just a few elements that must be taken in consideration in order to maximize the benefits.
By making the decision to take a specific drug, the senior decides, in collaboration with a healthcare professional (doctor, pharmacist or nurse) that the medication's benefits will outweighs its potential or true risks.  
Aging and medication
The effects of aging have an impact on medication efficiency. For example, the liver is an organ that may be compared to a medication breakdown machine. As the person gets older, substances found in medication are metabolized less efficiently by the liver, which has the task to break medication down. Similarly, an older person's kidneys may be less efficient to eliminate the pharmaceutical substances once they have been broken down by the liver. For this reason, it's very important to adapt medication's dosage or frequency. In addition, aging often brings the development of more fat than muscle – this change in body type may affect the way a medication is distributed throughout the body. These changes in the older body's functions and physiology may explain why some medications are not as efficient or appropriate for seniors.
Seniors who suffer from more than one chronic disease or condition are at a greater risk when undergoing polymedication. Polymedication is defined as the use of many different drugs and the unnecessary consumption of numerous prescription or over-the-counter drugs.   
Taking medication? Be careful!
The first rule for responsible, safe management of prescription drugs, over-the-counter drugs as well as natural health products, is to consult your pharmacist. The pharmacist is an expert on all medications, their side effects, as well the possible interactions between prescription and over-the-counter drugs, medication and natural health products, or medication and foods.
Given that every person has a different weight, age, health issues and other factors, each prescription must be adapted or adjusted to suit the person's needs. In order to obtain the desired results from your medication, it is crucial to take them correctly. As such, should you need to take many pills throughout the day, it is recommended to use a pill organizer.  This is a simple, convenient way to organize your pills according to the time of day and meals, without forgetting any. Talk to your pharmacist or your doctor about the use of pill organizers.  
Potential issues related to medication must not be underestimated, especially for seniors. Here are a few statistics:  
Over 30 % of hospitalizations in the elderly are related to pharmacotherapy – from those problems, 57.1 % could be avoided.  
Approximately 60 % of people aged 65 years and over take at least one prescription drug; the majority takes an average of 3 to 5 different drugs. These statistics exclude over-the-counter drugs and natural products.  
The rate of treatment adherence is less than 50% for a quarter of seniors.  
The use of 2 drugs brings a 13% risk of undesirable side effects. This risk goes up to 58% when using 5 different drugs, and up to 82% if 7 or more different drugs are being consumed.
Taking medication is not harmless. Drugs bring therapeutic benefits by helping prevent or cure illnesses, alleviate pain or support the body – but they also bring undesirable side effects. The higher number of drugs a person takes, the higher the risk of having undesirable side effects.  It is thus very important to be attentive to our own body's reactions when taking a drug. Here are some of the undesirable side effects that can be experienced when taking medication: falls, insomnia, loss of coordination, malnutrition, dehydration, loss of appetite, weight loss, memory loss, incontinence, confusion, delirium, hallucinations, dizziness, somnolence, constipation, nausea…
When they are not monitored, side effects may have a negative impact of the person's quality of life: visits to the emergency room or the doctor, falls, fractures, hospitalization, loss of functionality or independence, transfer to a long-term care facility, etc.  
Depending on the gravity of side effects, it might be advisable to take some action in order to keep them under control. The doctor (or the pharmacist in some cases) may decide to adjust the drug's dosage or frequency, stop the drug, add another medication to alleviate the side effect, or replace the medication with another one. If you think that there is a problem with your medication, talk to your doctor or your pharmacist. Don't decide to make changes yourself.  
In summary
Keep with you at all times (even when travelling!) an updated list of all your medications; your pharmacist may give you the complete list. This will greatly help the healthcare teams in better taking care of you.
Monitor your reactions when starting a new medication or when its dosage has been modified. Take notes and try to observe the circumstances of your reactions.  
Write down any question you may have and talk to your doctor or pharmacist. 
Bring expired drugs back to your pharmacist.
Don't take drugs that have been prescribed to someone else. They might not be appropriate to your condition.  
References :       
Approche adaptée à la personne âgée en milieu hospitalier MSSS 2011
Protégez-Vous Guide pratique Aide aux aînés 2011Hors Série
Agrawal, A., Wu, W., & Khachewatsky, I. (2007). Evaluation of an electronic medication
reconciliation system in inpatient setting in an acute care hospital. Studies in Health Technology &Informatics, 129(Pt 2), 1027-1031.
Fulton, M. M., & Allen, E. R. (2005). Polypharmacy in the elderly : a literature review. Journal of
the American Academy of Nurse Practitioners, 17(4), 123-132.
Payot, I., Monette, J., Béland, F., & et al. (2006). Problèmes reliés à la pharmacothérapie comme
cause d'hospitalisation chez la personne âgée fragile. La Revue de Gériatrie, 31(10), 785-794.
Do you like this story?