Inauguration of the Multi-service Centre at Manoir Les Générations
Monday May 9, 2016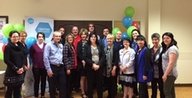 On May 6, the new Multi-service Centre was inaugurated at the Manoir Les Générations in Rimouski. AZUR's Multi-service Centres provide a unique, streamlined access to a wide array of professional & specialized services to seniors, directly at the residence.
The Manoir residents welcomed these news with enthusiasm. Many Centre partners were on-site for this opening, to provide more information about the services available at the Centre. Congratulations to the entire Manoir Les Générations team! 
Do you like this story?