Opening of the 10th Multi-service Centre
Monday May 16, 2016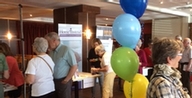 Inauguration of AZUR residences' tenth Multi-service centre at JAZZ Longueuil


On Saturday, May 14, was inaugurated the 10th Multi-service Centre in the AZUR network. This milestone was held at the JAZZ Longueuil residence, where approximately 15 partners had the opportunity to promote their services.
Many residents came to meet the Centre's professionals, who will be providing their services directly on-site. This opening was very well received by residents, as well as their families.  
AZUR's Multi-service Centres provide a unique, streamlined access to a wide array of professional & specialized services  to seniors, directly at the residence.
We would like to thank the JAZZ Longueuil team for their involvement. Long live JAZZ Longueuil's Multi-service Centre! 
Do you like this story?