4G Mornings at Jardins Le Flandre
Tuesday May 17, 2016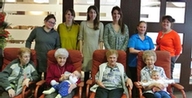 The Jardins Le Flandre residence, located in Limoilou, Quebec City, has enthusiastically endorsed the "4G Mornings" project founded by a young mother from Quebec City.

The "4G Mornings" (4 generations) project invites mothers and their young children to come and spend quality time with seniors at the Jardins Le Flandre residence. Meetings are held every two weeks between 9 AM and 11:30 AM, and feature various inter-generation activities, such as games, reading sessions, discussions, music, etc. These meetings are free... but the shared moments are truly priceless!  

Beautiful moments are experienced at the residence: for residents, spending some time with young children is a tremendous source of joy. For the young mothers, some of whom are living far from their family, residents fulfill a parent's or grandparent's role. Relationships are built for life.  


Congratulations to the Jardins le Flandre residence for their participation to the "4G Mornings" project!
Do you like this story?