COGIR Real Estate Acquires 3 New Retirement Homes in Quebec
Friday June 3, 2016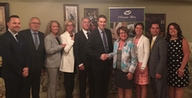 Brossard, Friday, June 3rd, 2016 — COGIR Real Estate is proud to announce the addition of 3 new retirement homes to its residential portfolio.
The change of ownership includes the L'Oiseau Bleu, Château Bellevue de Ste-Marie and Château Bellevue de Baie-Comeau retirement homes, properties that are deeply involved in their respective communities of St-Georges, Ste-Marie and Baie-Comeau. COGIR Real Estate, the Quebec leader in the management of private seniors' residences, has acquired these retirement homes, which have been owned since their inception by the Lepage, Turcotte and Bouliane families, respectively. A total of 825 senior living apartments will now be managed by Cogir. The company owns and manages over 40 private seniors' residences across Quebec; a great number of these properties are located in the Quebec City and Bas-Saint-Laurent regions. "The acquisition of these new properties represents an exciting opportunity for us to ensure continuity in the services provided to the residents, by keeping the management team and their employees in place – these people truly represent the heart and soul of a residence,"  explains Mr. Mathieu Duguay, President of  COGIR Real Estate.
About COGIR Real Estate
COGIR Real Estate promotes a human approach and aims to add a touch of magic to its daily operations. This Quebec-based company, founded in 1995, includes over 2,600 compassionate employees. Its commitment to the highest quality standards and its strong company culture, based on four core values (Trust, Passion, Collaboration and Creativity) makes us stand out in the market. COGIR Real Estate offers safe, reassuring and stimulating living environments, with dedicated care staff attentive to the needs of residents and their families.  
Do you like this story?