Official Jazz Longueuil Opening
Friday June 10, 2016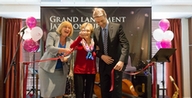 On Thursday, June 9, the official opening ceremony of Jazz Longueuil's Phase II was held in presence of Mr. Mathieu Duguay, President, Cogir Management Corporation, along with Cogir executives. Also present to this ceremony were the entire Jazz Longueuil team and its residents. The Jazz Longueuil private retirement home is a true success story in the industry. 
This ceremony also marked the unveiling of the "Les grands-parents" work of art, which had been specially created for the residence by Quebec-born sculptor artist Roger Langevin. The room was filled to its capacity for this special occasion!
About Jazz Longueuil
An important seniors' residence located in the heart of Longueuil, Jazz Longueuil has expanded its installations to serve a greater number of autonomous seniors in the area.  In addition to providing over 180 new contemporary apartments, this new residence features a modern and fully-adapted care unit, a multi-service centre as well as a wide array of value-added services for the benefit of its current and future residents.  
For more information, please visit Jazz Longueuil's website at www.jazzlongueuil.ca. 
Do you like this story?