ILEAU Project – Château Beaurivage and Complexe Gouin-Langelier transform their environments
Tuesday June 21, 2016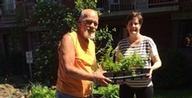 Seven residences in Quebec took part in the first project of ILEAU (Interventions locales en environnement et aménagement urbain, or local environmental and urban planning initiatives) in Montreal's east end. Two of these residences, Château Beaurivage and the Complexe Gouin-Langelier, belong to the AZUR group.
The goal of the ILEAU project is to combat heat islands while offering residents beautiful exterior environments where vegetation, biodiversity, beauty and resident-friendly spaces encourage people to partake in outdoor activities. [AB1] 
For the project, residents, employees and volunteers from the Château Beaurivage and Complexe Gouin-Langelier spent over eight hours on Friday, June 17 planting trees, flowers and other types of vegetation with the help of the nonprofit organization Les Pousses urbaines. Over 1700 plants were added to the grounds of the seven participating residences.
Coordinated by the CRE-Montréal, ILEAU is the result of joint efforts between residence owners, landscape architect Édith Normandeau, Synergie Santé Environnement (which helps health care institutions with their environmental practices), and Les Pousses urbaines. These concrete actions aim to reduce the adverse effects of urban heat islands on a particularly vulnerable population. 

Congratulations to all of the project's partners!
Do you like this story?