A great gathering in Québec City to close the Grande Marche Vieillir en Santé with Sylvie Fréchette
Friday August 5, 2016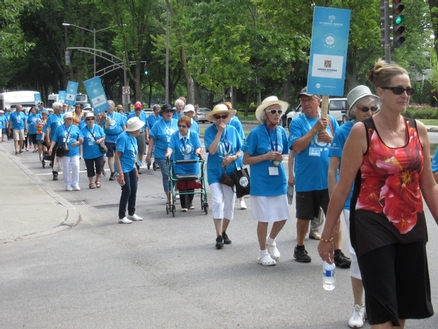 The closing event for the Azur Games was held on Thursday, August 4 and was organized by Le Saint-Patrick for all Azur residences in the Québec City region. During the event, about 350 seniors walked to celebrate healthy aging.
In fact, residents walked throughout the summer as one of the disciplines of the Azur Games. To celebrate the Olympics theme, the equivalent of the 35,420 km separating the different Olympic host cities was walked by the entire Azur network from June 6 to July 31. Sylvie Fréchette, our official spokesperson for the fourth edition of the Grande Marche, visited a number of residences during the summer and was there to cheer on Azur athletes during the celebrations in Québec City. The festivities started with a 2-km walk along Grande Allée West that connects Battlefields Park with Bois-de-Coulonge Park. Residents who stood out through their commitment to one of four values (courage, collaboration, confidence and creativity) received a medal from Sylvie Fréchette. 
Do you like this story?