Jardins Logidor Launches its Multi-service Centre
Tuesday August 30, 2016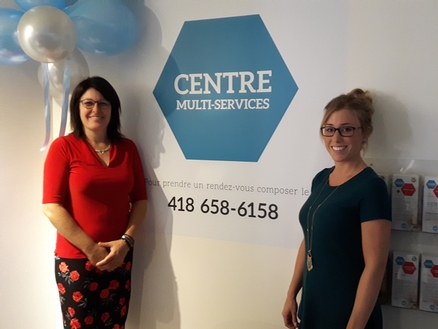 To fulfill the needs of its residents looking for an easy and fast access to a wide array of superior professional service providers, the AZUR senior residence group has opened its 11th Multi-service centre at the Jardins Logidor residence, located at 795 Alain Street in Quebec City. This grand opening was attended by Mrs. Sophie Tremblay, AZUR Residences Regional Manager, Eastern Quebec, and by Mrs. Sophie Doré, AZUR Multi-service Centre Regional Manager.
On August 18, 2016, all residents and their families had the opportunity to meet with the various professionals who will be providing their services at this innovative service centre. These professionals, including a dentist, optician, physiotherapist, occupational therapist, massage therapist, notary and many more, will be available at different times each month to provide personalized, high-quality services to seniors in the comfort of their own home and without delay.   
We would like to thank our residents and their families for their high interest and their involvement in this project. We will work in collaboration with our different professionals to ensure that our residents receive outstanding services in this innovative centre!   


Line Girard
General Manager
Do you like this story?