OFFICIAL INAUGURATION OFFICIELLE OF THE MAISON LOUISE-ÉLISABETH
Thursday November 24, 2016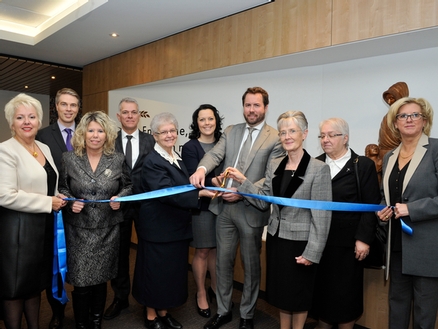 AN OUTSTANDING REAL ESTATE PROJECT LOCATED IN LÉVIS, QC


On Thursday, November 24, 2016, was held the official inauguration of the Maison Louise-Élisabeth facility, in the presence of Mr. Mathieu Duguay, Cogir Real Estate president, the Cogir Real Estate team as well as the resident nuns from the Sœurs de la charité de Saint-Louis religious community.
A unique residence, designed for unique residents
Last spring, the Sœurs de la Charité de Saint-Louis congregation decided to sell the Pont Rouge and Lévis convents in order to transfer all nuns to a new facility, which will be managed by Cogir Management corporation.   
"Cogir has an extensive experience in the building and management of senior living facilities; however, this new mandate is something completely different. We made sure the nuns were involved at every step of the project, to ensure that this facility respects their Christian values as well as their daily habits," explains Yves Duguay, Vice-president, Operations, Cogir private seniors' residence division. The facility includes a beautiful chapel, which features the stained glass from the old convent's chapel. In addition to the main dining room, every floor has a smaller kitchen and dining area where snacks and fresh foods are available at all times. "This feature was explicitly requested by the congregation, in an effort to re-create the warm, home-like atmosphere found in the convent" explains Mrs. Nathalie Fillion, General Manager.
Various religious rituals are an important part of the daily operations in the congregation–from the communion before the evening dinner, to special meals for periods such as Easter, as well as special proceedings in case of a funeral. "We have been working in close collaboration with the leadership committee, which includes five community members. The solidarity and sense of belonging between nuns are very strong. Some of them have been living together for over 30 years," mentions Mrs. Fillion. In addition, all social activities have been organized in a way that meets the congregation's specific needs.
"We hope to have the opportunity to build and manage similar projects, moving forward. Creating living environments where the client experience is at the heart of the facility's operations is a philosophy that is perfectly aligned with our company values" explains Frédéric Soucy, Senior Vice-president, Cogir Real Estate.
The Maison Louise-Élisabeth facility includes 130 units for independent and semi-independent nuns. 
Do you like this story?