IUGM's PHYSICAL ACTIVITY PROGRAM
Thursday December 12, 2013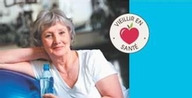 Launch of a new, innovative program that links study research and seniors' daily lives


Deeply rooted in its values and corporate mission, COGIR Management Corporation wishes to contribute significantly to the improvement of the health and well-being of Canadian seniors on a daily basis, through its network of AZUR & JAZZ private seniors' residences.  Similar to the rest of the population, our senior residents must face important challenges related to aging. To that effect, not only as the leader in private seniors' residences in Quebec but also from an humanitarian standpoint, our company aims to set the example and contribute to the improvement of our seniors' health condition, as well as possibly preventing the development of certain diseases. As such, COGIR Management Corporation and AZUR & JAZZ, its banners of private seniors' residences, joined forces with the Institut universitaire de gériatrie de Montréal (IUGM) in order to develop a series of initiatives which, we strongly believe, will have a positive impact on the quality of life of our residents.  Healthy aging is an objective that we should all care about.  
 Throughout its studies carried out over many years, the IUGM Research Centre has discovered the strong relationship between seniors' physical activity levels and their health condition. The greater challenge consisted of converting scientific study results into the real, daily life for seniors.  To that effect, a work group made of IUGM researchers and COGIR senior residence employees was created to develop a complete physical activity program especially adapted to seniors. The launch of this program occurred on November 28th, 2013 in Montreal, and December 12th in Quebec City, as our residence mangers and recreologists received a special training session from the IUGM.
 The first few weeks of 2014 will be dedicated to implementing this program across our entire network of residences. A complete program document was created1 in order to better explain to our seniors the benefits they can get from doing regular physical activity. 
An activity program especially suited for seniors – a first on the market
The program features various findings from scientific research, a complete exercise program based on proven results as well as some general recommendations from IUGM researchers. The various exercises and activities included in this program are organized in three intensity levels. Every movement is clearly explained through photos and easy-to-understand descriptions.  
Bearing the IUGM seal of approval, this program constitutes a great tool to support our network's recreologists who work every day to propose diverse, innovative activities for the well-being of our seniors. 
Do you like this story?