COGIR LAUNCHES FIRST HI-TECH AND ENVIRONMENTALLY FRIENDLY CAR SHARING SERVICE FOR SENIORS
Wednesday November 30, 2016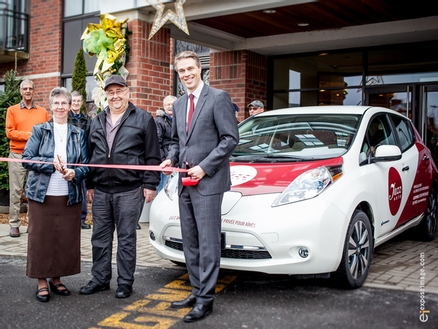 On Wednesday, November 30, 2016, Mr. Frédéric Soucy, Executive Vice President, Cogir Real Estate, the Jazz Drummondville team, the Cogir Real Estate team, and Jazz Drummondville residents came together to inaugurate the very first Jazzauto vehicle, which will be used for an electric car sharing service for residents.
A first for seniors residences in Quebec
In addition to being a 100% electric car, this 2016 Nissan LEAF is equipped with a number of safety features. For example, the Jazzauto has a built-in GPS system that follows and tracks the vehicle wherever it goes and transmits real-time mechanical information to the residence to ensure the vehicle is always safe and in good working order.
"Safety is a key feature for seniors and their families when they choose residence life. We're very happy to offer this car sharing service so that they can get around independently and safely," said Annick Giguère, General Manager of the Jazz Drummondville Residence. The vehicle also has three cameras: one for the road in front, one for the road in back and a dashcam inside. These cameras act like the black boxes on airplanes, as they record information for future reference if needed.
To reduce its environmental footprint in the region, Jazz Drummondville, an Azur residence, will provide four 240V charging stations for residents and their families. "Residents and their children and grandchildren have become more and more concerned about the environment. It's very important for us to help build a healthier environment for future generations," added Frédéric Soucy, Executive Vice President, Cogir Real Estate.
"I can't wait to try the Jazzauto. This will be my first ride in a 100% electric car. I hear that it's very quiet and pleasant to drive. This is a really great initiative that gives us access to a vehicle at our residence, but without the hassle of maintenance," said Ms. Florence Paulhus, a resident of Jazz Drummondville.
"The Jazzauto lets residents get around independently close to home. This innovative solution means they can get rid of their own vehicles, which represent a significant expense given the amount of time they're on the road. Jazzauto is our new initiative to make the residence lifestyle the preferred choice for seniors," explained Mathieu Duguay, President, Cogir Real Estate.
Do you like this story?