INSTITUT DE GÉRIATRIE DE MONTRÉAL 'S COLUMN
Tuesday May 20, 2014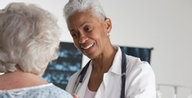 What will happen if you need to be hospitalized?


In the last few years, the Ministère de la santé et des services sociaux has developed the "Approche adaptée à la personne âgée en milieu hospitalier" (Care approach adapted to seniors in hospital environments), for care practices in hospital environments be better suited to the real needs of seniors, as a growing number of seniors are present in short-term care facilities. As per this program, all Quebec hospital personnel and doctors are currently adapting their care practices to take into account seniors' specific frailty risks. What does this mean for you, should you ever need to visit a hospital? Read below...
According to your capabilities, you will be asked to continue doing what you were doing at home. It's true! You might think that this is a joke; that going to the hospital means that you surely need to lay down and rest as much as possible, and get help in feeding and dressing yourself.... Think again. All these statements are only partly true. These ideas are often based on ancient practices and prejudice. They are no longer relevant in light of the most recent studies regarding seniors' health. Moreover, these old practices may have tragic consequences on seniors' health.   

For example, did you know that:


A single day of full bed rest translates into 3 days of hospitalization for a 75-year-old?  
75-year-old seniors lose 5-10 % of their muscle mass every week they are bedridden; consequently, they might need weeks of rehabilitation to reach walking autonomy again?
A pressure ulcer (bedsore) may develop after spending only 3 hours on a stretcher?  
75-year-olds who undergo surgery or is placed in intensive care are at risk of developing delirium (a usually transient and reversible state of acute confusion that is often mistaken for dementia) in over 75% of cases? 
To prevent these issues to occur in a hospital environment as much as possible, care personnel might possibly talk to you about the AÎNÉES program – a French acronym meaning "seniors" that highlights the most important points in senior care.
A forAUTONOMY (autonomie) - mobility and activities of daily living
I for skin INTEGRITY (intégrité de la peau)
N for NUTRITION and HYDRATION (nutrition, hydratation)
É for urinary and fecal ELIMINATION (élimination urinaire et fécale)
E for COGNITIVE STATE (état cognitif)  
S for SLEEP (sommeil)
Care personnel will assess with you the activities that you were able to do at home and will ask that you continue to do them, as much as possible. This will allow them to determine whether you need specific assistance and the best way to help you maintain your autonomy level from before your hospitalization. Hospital personnel are striving to send you home without losing any of your capabilities.  
In addition, we will discuss your hospital discharge, with you and your family, throughout your stay. Not because we want to get rid of you, but because we are fully aware that the hospital is not the best environment to get in shape. With an adequate preparation, we will be able to better determine what you will need upon leaving the hospital: cooking services, help with taking baths for a few weeks, etc.
If you don't understand why you are requested to do certain activities, feel free to ask! Care personnel will be able to explain to you why you need to walk around, drink, sleep, etc. This way, you can enjoy your independence as much as possible.   
Do you like this story?