AZUR Residents orchestrate a Flash Mob
Friday October 17, 2014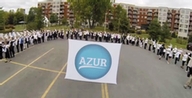 AZUR residents take part in a festive outdoor dancing event!


Inspired by a beautiful French ballad " Aimons-nous sans attendre "  by Marc Dupré, the AZUR Residences management teams were motivated to help put together an unforgettable experience for residents: a large-scale dancing Flash Mob!

To orchestrate this amazing event, AZUR residents were coached by Nathalie Descôteaux, professional choreographer of l'École ArtistiqueNathalieDescôteaux, who imagined and brought to life a magnificent choreography to accompany the lyrics of the ballad. The AZUR residents practiced twice a week from June to September to get the entire dance choreography right!
The Regional Director of AZUR Residences, Mrs. Yvonne Bernier, was touched by the presentation: "We want to capture this magical moment on video to share it and to show yet another example of our senior residents enjoying every moment of life."

Flash Mob AZUR took place on September 12th, 2014, between 1PM and 3:30PM at the Residence "Les Jardins Renoir" in Laval. We wish to wholeheartedly thank all the participants!
You can now view the result of their cumulative efforts in the AZUR Flash Mob video bellow:


Do you like this story?