The Érablement Bon 2015 Grand Finale crowns the best maple-flavoured dessert in the province!
Thursday April 30, 2015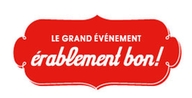 The Grand Finale of our annual Érablement Bon contest was held amidst lot of emotion and excitement, once again this year. The 2015 edition culminated on April 14th, at the Jazz Longueuil residence. This contest, held across all AZUR, JAZZ & COGIR private seniors' residences, showcases the culinary talents of our chefs through a friendly competition. This year, the contest focused on the best maple-flavoured dessert.
A difficult task awaited our judges! 30 tasters from the JAZZ Longueuil residence and guests of honour from the COGIR head office had the delicious mission of tasting all of our 5 finalists' desserts in order to determine the best one!
Every residence was represented in semi-finals across the province, where the following five finalists were chosen:  



Chef Stéphane Asselin, Émérite de Brossard
Chef Jean-Charles Toussain, Jardins Intérieurs
Claude Sabale, Jardins Katerina
Chef Néhat Rrustolli, Jazz Lebourgneuf
Chef Pierre Juteau, Résidence du Verger
These five finalists gave their best performance and effort in the spirit of competition. The result was a selection of amazing recipes, worthy of the best chefs, presented to the jury for the Grand Finale. Two prizes were awarded this year : Residents' Choice and Head Office Member's Favourite Pick. And the winners are:

Chef Stéphane Asselin, from Émérite de Brossard and Chef Claude Sabale, from Jardins Katerina



            Chef Stéphane Asselin, de la résidence L'Émérite de Brossard                            Chef Claude Sabale, de la résidence Jardins Katerina
 

    
Congratulations to our winners and to all participants of the 2015 Érablement bon competition!
Do you like this story?