A Third Edition for the Healthy Aging Grand Walk
Monday June 8, 2015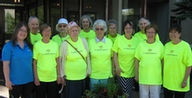 Until August 2nd, 2015, the Healthy Aging Grand Walk will bring together numerous walking clubs from AZUR,JAZZ & COGIR seniors' residences.


As part of the Healthy Aging program, the AZUR, JAZZ & COGIR networks of retirement homes are hosting a large-scale activity to promote physical activity with senior citizens across Quebec.


From June 8th to August 2nd, 2015, the third edition of the Healthy Aging Grand Walk will bring together all walking clubs from our network of retirement homes. Especially created for this special occasion, these walking clubs are made from volunteer walkers who took the challenge of walking a distance appropriate for their physical condition. Upon the launch of this event on June 8th, over 1,400 walkers from 33 residences are taking part in this large-scale event.


The Healthy Aging Grand Walk is based on a simple concept. Every registered walker has received a pedometer to count all steps made during the Grand Walk. To better keep track, the resident writes the total of steps made each day on a cumulative sheet. Once a week, each Friday, walkers will bring their cumulative step sheet to the person in charge at their residence.  All counted together, the total of all steps made by all participants in each and every one of our retirement homes will help the network to reach the longest possible distance. The ultimate objective is a journey across the world, based on Jules Verne novel, through 8 stops. The progress of our Grand Walk is available on Azur website at all times. The first results will be posted on June 15th, 2015.     
Do you like this story?