An Inter-generational Activity at L'Émérite de Brossard Residence
Wednesday June 7, 2017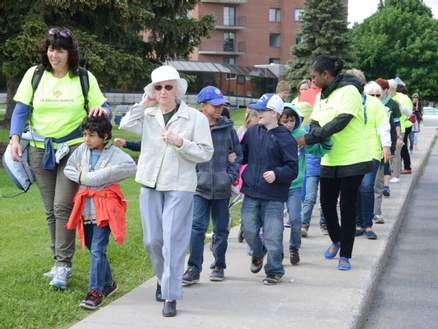 On June 1st, 70 students from the Samuel-de-Champlain elementary school joined senior residents from L'Émérite de Brossard residence for a walking activity to kick off the annual Grand Walk. 
For this fifth edition of the Grand Walk, every residence in the Cogir network got paired with a school from their community, which will receive $500 worth of school supplies this September.  
The Grand Walk is one of many inter-generational activities organized by the residence with the Samuel-de-Chmplain school and the Les Trésors de Biamel daycare centre. Other activities include cooking workshops, gardening projects and recitals. 
Held under the theme "Sharing knowledge" (Le partage du savoir), the Grand Walk continues until July 31st.
Please click here to see the article published in the Courrier du Sud (in French).
Photo: TC Média Jean Laramée
Do you like this story?