Résidence du Verger hosts French TV show "Donnez au suivant"
Monday January 11, 2016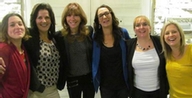 The Résidence du Verger team welcomes Mrs. Chantal Lacroix at the residence for National Seniors Day


October 1st, 2015 was National Seniors Day; for this special occasion, Résidence du Verger in St-Jérôme welcomed "Donnez au suivant", a popular French TV show hosted by Mrs. Chantal Lacroix.
In keeping with its traditions, the TV crew spoiled residents! Their special event started with a visit of one of the Laurentians' best facilities, where they spent an excellent day with residence personnel and many volunteers from the St-Jerome area.
Mrs. Evelyne Rousseau, Activity Supervisor at the residence, nominated the residence for this reward; she considers that residence employees "pay it forward" by taking care of residents every day, and residents also "pay it forward" by showing their appreciation.  

The show was broadcast on January 11, 2016 on Canal vie.
To thank the "Donnez au suivant" crew and keep the chain of generosity going forward,  Résidence du Verger organized a fundraiser for the benefit of Maison de soins palliatifs de la Rivière-du-Nord. Congratulations to Résidence du Verger for this generous initiative, and once again, our warmest thanks to "Donnez au suivant"!
Do you like this story?