Easter at the Complexe Gouin-Langelier Residence
Thursday March 31, 2016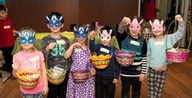 An Easter egg hunt for the ages!
This year, for Easter, the Complexe Gouin-Langelier residence organized a massive egg hunt for its residents' grandchildren. A total of 41 children enthusiastically participated to the egg hunt, with their parents and grandparents.
All children went home with the same basket-full of eggs, and some giant chocolate bunnies were drawn among participants.  
This event was so successful, it is undoubtedly the start of a new tradition at the residence!  
Do you like this story?