A first in Québec : the Healthy Aging program
Tuesday October 9, 2012


Azur & Jazz private retirement homes join forces with Mr. Richard Béliveau and the Institut universitaire de gériatrie de Montréal


A first in Québec : the Healthy Aging program
Azur & Jazz private retirement homes join forces with Mr. Richard Béliveau and the Institut universitaire de gériatrie de Montréal
Montréal October 9th - Mr. Mathieu Duguay, Executive Vice President, COGIR Management Corporation,  COGIR, Mr. Richard Béliveau, Ph.D. in Biochemistry, and Mrs. Céline Crowe, Director of Professional Services and Head of the Centre de promotion de la santé at the Institut universitaire de gériatrie de Montréal, announced today the launch of the Healthy Aging program. The first of its kind in Quebec, this initiative will directly affect the daily lives of clients in the AZUR and JAZZ private retirement homes. This represents an exceptional association between Cogir Management Corporation, l'Institut universitaire de gériatrie de Montréal and Richard Béliveau, Ph.D. in biochemistry, and aims to improve the life conditions and health of seniors in Quebec.
During its initial three-year term, the Healthy Aging program will address senior nutrition, prevention of degenerative diseases and recreation. This agreement covers the development of weekly physical activities and cognitive stimulation programs, various health-featured conferences as well as and a senior health monitoring group. These activities will be developed jointly by teams of researchers from the Institut universitaire de gériatrie de Montréal and teams of specialists working for Azur and Jazz private retirement homes. "This agreement is part of our organization's goal to provide to residents, their families, seniors in surrounding neighborhoods and our various teams with the latest health information. With this program, as leaders in private retirement home in Quebec, we want to contribute to the improvement of the health of our seniors and the prevention of certain diseases," explained Mr. Mathieu Duguay, Senior Vice President, Cogir Management Corporation.
With its world-renowned expertise and his passion for better living of seniors, Mr. Béliveau will play an active part in the redesigning some of the services provided throughout Azur and Jazz homes to maximize the health aspect of these services. As such, many different tools will be developed by Mr. Béliveau and COGIR to improve the quality of life and health of senior residents, namely: video capsules, conferences, health-related articles and health monitoring, as well as the development of healthy menus in collaboration with a team of chefs from AZUR & JAZZ homes.
L'institut universitaire de gériatrie de Montréal is proud to be associated with Cogir management Corporation for their  initiative that will contributes to the elder's well-being and health.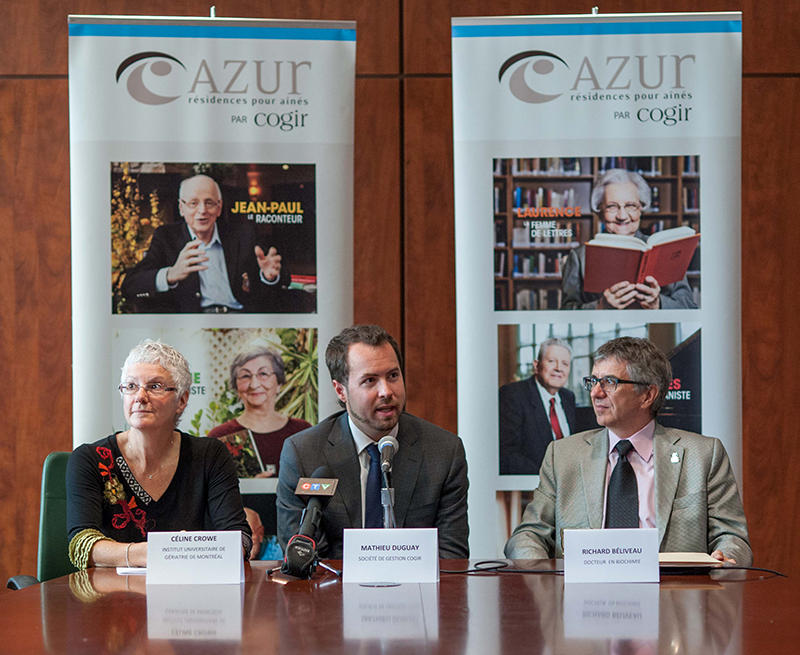 Cogir Management Corporation is a Quebec-based real estate company specializing in management, development and consultant services founded in 1995. This company manages over 40 private retirement homes across Quebec, under the AZUR & JAZZ banners.
Do you like this story?